Have you registered for The Great Shakeout?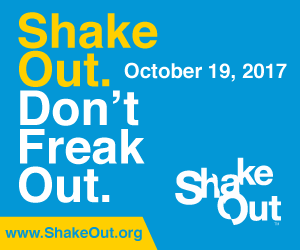 If you read that headline and thought I was talking about a song by Taylor Swift, please read on. The Great Shakeout is coming and you should get involved.
No, it's not a song, and it's not the latest dance craze. The Great Shakeout is an earthquake drill, and it's held on an annual basis. And the next one is happening next week on October 15th. The Great Shakeout encourages everyone, whether you're at home, work, or school, to practice what to do during earthquakes, and to improve your preparedness.
Even if you don't live in an area where earthquakes are a common occurrence, keep in mind that earthquakes can happen anywhere. I never expected to be in an earthquake where I live (Maryland) until August a few years back. There was a 5.8 magnitude earthquake whose epicenter was about 100 miles south of me. I had never felt anything like it before. It was incredibly scary to feel the office floor shift beneath me and feel my building rattle. And for awhile after there was no cell service, and even landlines weren't connecting. It was scary to not be able to get in touch with family to make sure they were okay. Relatively speaking, it was a mild earthquake, but to a population of people who were mostly unfamiliar with the concept, it was frightening. And in that moment, none of us really knew what we were supposed to do to stay safe.
So it's a good idea to be prepared, and knowledgeable, before an earthquake hits. Check out The Great Shakeout website for more information. You can participate from anywhere, and it's really easy to get started. Remember, "Shake out, don't freak out!"
Tags: Disaster Response, Events
Dana
Dana (She/Her/Hers) joined the iCarol team in 2013 after 12 years of direct service and administrative duties at a blended 2-1-1/crisis intervention/suicide prevention center. As the Communications and Social Media Manager at iCarol, you'll find her presenting Webinars, Tweeting, Blogging, Facebooking, and producing other materials that aid helplines in their work.